August 24th, 2012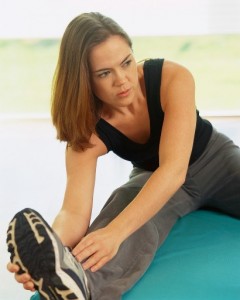 Sometimes the hardest part of getting a toned, graceful body is not the workout itself, but finding the time to actually do the workout.  Yes, it would be great to have an hour each day to work on trimming, toning, and endurance training.  If your schedule is already busy, the thought of a daily hour workout may seem both appealing as an escape and overwhelming to actually add it to your daily to-do list.
Oddly, though, if your daily schedule always seems to be a precarious juggling act, and you feel exhaustion from trying to complete all your daily tasks, then regular exercise is actually essential for you.  Why?  Because regular exercise strengthens muscles, increases lung and heart capacity, increases blood flow to vital organs (like your brain!), reduces stress by burning off cortisol (a stress hormone), and gives you better coordination.  All these combine to mean more strength, grace, confidence, and energy levels.
I once attended a meeting for a local women's CPA group.  A leading area heart surgeon was the speaker.  When he asked if there were any questions, I raised my hand.  I asked him if there was any guideline for how much a woman should exercise in order to gain benefits.  He answered without hesitation that ANY amount of daily exercise would gain benefits – even 5 minutes a day.  He went on further to state that yes, the benefits increase as the daily minutes increase, but that he saw pleasing improvements in his patients when they went from sedentary to working out for 5 – 10 minutes a day.
So.  Now you know that even a short workout will give tangible benefits.  Why not start with 5 minutes a day? (Well, of course, you'll check first with your doctor if you have any health concerns at all.)  Add minutes in a week or two, but just get started. Make up your own little workout, say marching in place for 3 minutes and stretching for another 2 minutes.  Or perhaps you could do 2 minutes of leg exercises, 2 minutes of ab exercises, and 1 minute of walking.
Once you've made a 5 minute workout a daily habit, gradually work your way to a 15 minute workout.  Prepare to be amazed with your increased self-confidence and muscle toning.
Here are some sources for ideas for creating your own workout and workouts that have already been created for you.
5 Minute Tone Body, Abs Workout, Fitness Training w/Tammy  – this video is 4:52 long and starts out with :50 of talking, so the workout is really only 4 minutes!  She also does the 5 Minute Tone Abs Workout 2,  which is 5:42 long but does not actually start the workout until about 1:00 in.
A model shares her 5 Minute Workout – Spankie – it's entertaining as well as a bit tough.  Video is 7:51, but does not start until about 1:15, so it is a little more than 5 minutes.  Spankie Valentine also has a 10 Minute Total Body Workout – video is 13:15 and has a long ad at the beginning, which you can skip.  The workout starts at about 1:00, but watch the pre-exercise section at least once; Spankie is fun to watch and a little silly, too.  I concede, the perky pre-exercise parts could be a little annoying for those grouchy groggy morning workout sessions. 🙂
Joanna Hall has a 5 minute cardio workout.  The video is 5:48 and starts about :50, so is really a 5 minute workout. Oddly, the preceding commercials are all in Spanish, but the video itself is in English with a wonderful British(?) accent. It's a nice five minutes – no mad jumping jacks, just constant stepping and moving that is almost dancing.
The trainer for the Victoria's Secret models has a 10 Minute Fat-Blasting workout – I like that it displays the minutes and seconds left in the workout.  It's not exactly a sexy workout, but it is certainly effective.   It has a few ballet moves, aerobics, soft jumping, and is a very dedicated workout – no frills or cool music.
When you are ready for a 15 minute workout, Real Simple has a list of Five 15-Minute Workouts   – a fitness-ball workout, a yoga workout, a jump-rope workout, a walking workout, and a strength workout.
There are also a lot of 15 minute workouts on YouTube.  Yoga Journal has a Beginner's Yoga: 15-Minute Awakening Practice (it's a little dry peaceful, but a very good yoga workout.
YogaVidyaEnglish has a cool yoga workout, it's 20 minutes, but you could always just do 10 or 15 minutes of it.  Yoga for Complete Beginners – Yoga Class 20 Minutes.  The video is delicious in releasing stress and tension.  This video is mostly geared toward releasing tension and increasing flexibility.
Lori Massad-Koska has a 20 Minute Yoga Workout for Beginners. The video is 20:13, but the exercises don't start until about :30.  It is nicely instructional and has peaceful music and a calm flow.
SparkPeople has a 15 Minute Ab-Hip-Lower Back Workout.  The video is 14:22 and the exercise starts about :20, so the workout is really only 14:00.
WomensHealthMag has a 15 minute workout – The Skinny Jeans Workout.  (Why is is that mentioning skinny jeans and bikinis gets our attention?)
PBS has a Quick Fit 15-Minute Exercise Program
Sol Walkling has a wonderful Pilates workout – 15 Min Beach Body Pilates Workout in Manly Australia.  It is 16:18 and starts at about :25.  She says the workout will give you a "cinched-in waist" look.  Sounds good to me!  Excellent pilates workout, and I find the Australian accent intriguing.
This should give you a good list of starting exercise programs.  Did I mention that all of these are free? No excuses now!
Here's to a healthy, toned, graceful body,
Patti