June 9th, 2015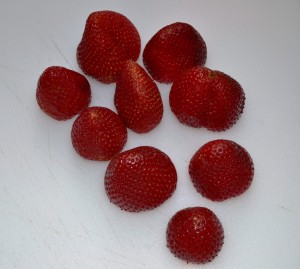 I walked across the meadow to the wooded area of our property tonight.  We call it "the woods" even though it is only about 2 or so acres of trees.  Nothing like Pooh Bear's Hundred Acre Woods.
This year it looks like we are going to have plenty of blackberries.  A few weeks ago, the whole woods seemed graced by clouds of small white flowers on the blackberry bushes.  Now the flowers have been replaced with hard, green, baby berries.  I wonder how long before they turn into tender, ripe blackberries?
As well, the mulberry trees and bushes are covered with green berries, although there are some patches of pale pink berries in the first stages of ripening.  It will still be awhile before they ripen to purple-black mulberries.  (Check my earlier blog post on picking mulberries.)  We should have all the mulberries we care to pick this year, too.
Back in the yard, the raspberries are in the stages of ripening, too, although it looks like the blackberries will ripen before the raspberries do.  We'll see.  Nature is in charge and I am just the rewarded spectator.
I didn't even mention the best part so far:  Chris picked well over a gallon of sweet, bright red strawberries a few days ago!  And there are more strawberries almost ready for picking.
It's times like these when I see the berries, the woods, the vast blue skies over the fields, the trees filled with bird song, the chickens grazing contentedly in their yard, the newly planted flowers blooming in the flower beds, (and so much more) that I feel peaceful, happy and very grateful.
Yes, life is berry, berry good.  🙂
See also How to Pick Raspberries on the Simple Life Blog.