December 23rd, 2012
This recipe for Peanut Butter Kiss Cookies has been popular on the Simple Life Corp site.  They are deceptively simple – just five ingredients (including the Hershey kiss) – and require no flour.
If you are looking for a quick cookie to make for a gift basket or for a last minute party, this is an excellent choice.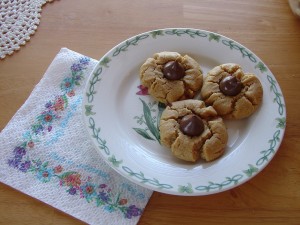 The ingredients are:  peanut butter, sugar, baking soda, egg, and Hershey Kisses.
That's it.
Really.
When you taste them, you'd swear they are made with flour and butter and all the standard cookie ingredients.
No one has to know it took you ten minutes to stir them up and put them in the oven.
Get the recipe here.  Simple Life Corp – Peanut Butter Kiss Cookies 
I hope that you found this helpful!
Happy Holidays!