October 7th, 2012
When the tomatoes and peppers begin to ripen in my garden, they have a rather distressing habit of ripening all at once.
My area (northern Indiana) has a freeze warning tonight. A freeze warning is a signal of the official end of the growing season. Many of the plants will survive a light frost. Virtually none of the vegetables and flowers in my gardens will survive a freeze. Summer, for us, is officially over.
We brought in two bushel baskets of tomatoes and peppers today, to save them from the freeze.  (Two bushels!)  I'm not even sure what I'll do with all these, but I know I'll be busy making tomato sauce and chopping tomatoes for freezing. I'll also chop up most of the peppers and put them in the freezer.  Apparently many other gardeners are doing the same thing because the Simple Life page on how to freeze fresh tomatoes, the quick easy way has become very popular.
I've posted the steps and the recipe for Spanish Rice here if you'd like to try it.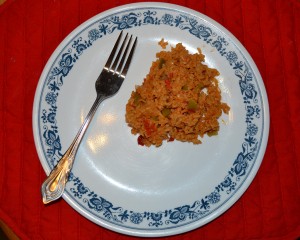 I hope you enjoy this recipe as much as we did.