October 22nd, 2012
"We can only be said to be alive in those moments when our hearts are conscious of our treasures."
       – Thornton Wilder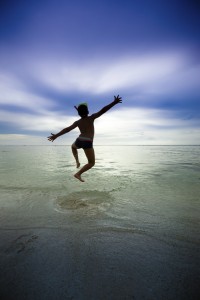 Some of the most radiant moments of my day are when I write in my gratitude journal.  It takes just a few moments to do the actual entries, but I find myself reflecting back over my entire day as I think of the things that brought a smile or a sense of happiness to me.
A sense of gratitude is something that can be consciously developed and increased. Keeping a journal helps you to develop a habit of being aware of all the things that are positive and supportive in your life.  It clarifies the moments of joy and reminds you to stop and take notice when you realize that you have stumbled onto one of those moments.
I've just read a blog post which lists some excellent research into all of the benefits of gratitude – The 31 Benefits of Gratitude You Didn't Know About: how Gratitude Can Change Your Life – on the Happier Human blog.   I've already experienced some of the benefits – help in relaxing, feeling happier, and being more optimistic.  However, I didn't realize that gratitude can boost your career, help you sleep better, and even keep you healthier, and that's just a sample of Amit's list of benefits.
One piece of his research that I found fascinating is Amit's chart comparing the increase of happiness in winning the lottery vs. keeping a gratitude journal.  Winning the lottery shows an immediate burst of increased happiness that begins a sharp decline.  Keeping a gratitude journal starts an upward curve of happiness that exceeds the happiness of winning the lottery (and continues the upward slope) after just three months. By this chart, if you want to have lasting happiness, you are better off keeping a gratitude journal than you would be from winning the lottery!
Take a look at the article How to Start a Gratitude Journal if you'd like some guidance and ideas on starting and keeping your own journal.
Get a note book out and start noting the things that you are grateful for.  It could change your life … in 31 different ways!
Have you tried a gratitude journal?  What are you grateful for?
In peace,
Patti
"Be thankful for what you have; you'll end up having more. If you concentrate on what you don't have, you will never, ever have enough."
– Oprah Winfrey
Related post: Start a Gratitude Journal, Love Your Life