July 21st, 2012
The sweet days of summer may have you searching for a hairstyle that is relaxed, easy to style, yet beautiful.  When the sun is hot and the air is humid, it feels good to have a carefree, attractive alternative to a plain, elastic-band ponytail.
I found a rather versatile, yet simple summer hairstyle that is perfect for keeping your hair managed and alluring.  The hairstyle here is from the blog GlittersGold.  It is a fishtail braid with an added twist, thus the name Twisted Fishtail Braid.  I like that Emily gives detailed instructions on how to create the style; that's very helpful for someone like me who appreciates all the step-by-step help I can get.
If you look at the steps (see link below), you could even stop at step #3 and leave it with the rather elegant, flowing ponytail without progressing to the fishtail braid.
Also, while this twisted fishtail braid is shown for long hair, it can also be adapted to shorter hair.  If you have shoulder length hair and it doesn't quite work to have the braid off to the side, it is still lovely to keep the ponytail (and therefore the braid) at the back of your head.
Here's the front view.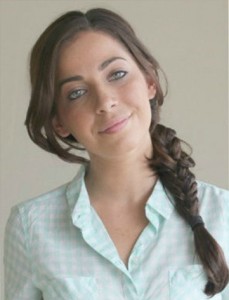 To see detailed step-by-step instructions and illustrations, here is the GlittersGold link …  Twisted Fishtail Braid.  (Thanks, Emily, for sharing your images with us!)
After you finish your hair, may I suggest that you pour yourself an icy glass of raspberry tea, take your shoes off,  sit outside, and just feel beautiful for awhile.
"Summer breeze makes me feel fine, blowing through the jasmine in my mind."  ~ lyrics, Seals & Crofts
Enjoy,
Patti