May 25th, 2012
Here is a sign that awakened a part of me … although I did not realize it until the sign gave me the perspective, in many ways I have been waiting for the perfect time and available money when I could sort of wave a magic wand and make my entire home beautiful, artistic, and wonderfully decorated.  Meantime, I've been tolerating pieces of furniture and entire rooms that I don't really feel comfortable with.  In my mind, these areas are in a waiting pattern, to be changed "someday."
This gives a pretty clear example of the difference between passively visualizing and visualizing with the intent to start today to love, appreciate, and begin to change.  What a huge difference it makes to live fully with whatever resources and circumstances are available right now!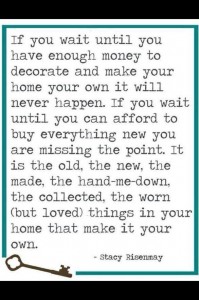 (This sign is displayed in the dealer booth for Ohh La La Furniture at The Original Treasure Mart in Kokomo, IN. ) 
Think about it:  Are you waiting for your dream? What would happen if you start today, with whatever is at hand, to begin taking action to realize your distant dreams?
In peace,
Patti
PS  Here are the sign words, in case the image is not clear:
If you wait until you have enough money to decorate and make your home your own, it will never happen.  If you wait until you can afford to buy everything new you are missing the point.  It is the old, the new, the made, the hand-me-down, the collected, the worn (but loved) things in your home that make it your own.  ~ Stacy Risenmay