February 6th, 2011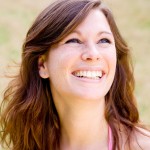 Some women just seem to have an attractive presence about them. They have an inner beauty that radiates out and you can feel their loving nature just by being in the same room with them. They move with a quiet confidence and power that demands respect and attention, yet all the while stay with their lovely feminine nature.
We can learn to have this sense of feminine confidence, power,  and radiant beauty. I've just watched another of Rachael Jayne Groover's videos. Rachael Jayne Groover is the founder of The Yin Project and is currently writing a book on just this subject.  She is 100% confident that she can teach any woman to have a radiant presence.
The video gives three tips that you can use immediately to increase your sense of attractive presence:
1) Staying "home", or present, in your body by bringing your inner attention to your lower belly.
2) Switching on and increasing your radiance by imagining and feeling your energetic radiance as a light globe around you.
3) Enjoying the movement of your body and feeling your radiance.
The video is almost 19 minutes.  If you have only an few moments, start at about point 10:55 to get just the three tips, but it is an enlightening experience to listen all the way through.  It is simply excellent and informative. I am already feeling an very increased and enjoyable sense of feminine radiance from using the tips in the video. I hope you will too.
Here is the link to the video: http://femininespiritualityandleadership.com/FSL/Tr93hF17Vid2/
Patti